Posted on | December 20, 2014 | No Comments
This holiday season, I am most grateful for the early Christmas gift we received from Energy companies in the form of cheaper fuel.
The price of a barrel of oil had been range bound between $90 and $130 since April 2011. In June of this year, the price got as high as $115 a barrel of oil before it dropped to $60 a barrel earlier this month—a level not seen since 2009. One might ask why it was so high to begin with? I don't know the correct answer other than that is the price people are willing to pay.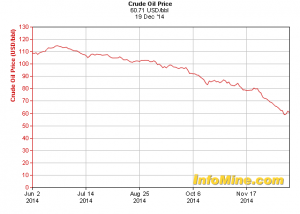 Cheaper gasoline could entice the middle class to spend more this holiday season. I'm just happy to be saving money at the pump.
I started looking at companies that were impacted by the drop in oil and decided to try
to pick the bottom. We'll have to wait and see if I guessed correctly.
This week, I trimmed my holdings in BA (The Boeing Company) and TRV (Travelers Companies Inc). I then purchased RIG (Transocean) and CVX (Chevron). I still hold positions in all four companies. However, I wanted to take advantage of the drop in energy stocks and it didn't seem that either BA or TRV we're going to move up anytime soon.
Sold TRAVELERS COS INC
Quantity: 6
Cost: $274.71
Proceeds: $622.64
Gain: $347.93
Percentage: 126.65%
Purchased RIG (Transocean LTD)
Quantity: 35
Total Cost: $646.29
Sold The Boeing Company
Quantity: 5
Purchased: 2011
Cost: $60.51
Net Amount: $304.50
Price: $121.78
Net Amount: $598.89
Gain: $294
Percentage: 96%
Purchased CVX (Chevron)
Quantity: 10
Total Cost: $1,029.49
I purchased Chevron to lock in a dividend of just over 4%. Meanwhile, RIG dropped from a 52 week high of $49.58 to under $20. I started a position in both stocks. If the stock price decrease further I'll buy more shares but if it goes up from here, I bought at the correct time.
Comments