Posted on | July 16, 2011 | 1 Comment
As many of you know Congress does some serious work from time to time.  Then there is the Roger Clemen's perjury case.  He was on trial for lying to Congress over use of performance-enhancing drugs.  At his trial, I read that the prosecution team (Steven Durham and Daniel Butler) were building a very solid case up until when they dropped the ball. Now that the Clemens trial has ended in mistrial, I'd like Congress to actually resolve the debt ceiling problem.
I think general population is starting to realize that the debt ceiling is a pretty big deal and could have some harmful consequences (Although, I think we should default on China anyway.  I hate having to buy low quality stuff made in China and having them use the proceeds to buy our debt and then having to pay them interest on it.  It just doesn't seem right. Especially, now that China is whining about it.).  Some Republicans seem to be using a pledge they signed that expressed commitment to not raise taxes as a  scapegoat (example below).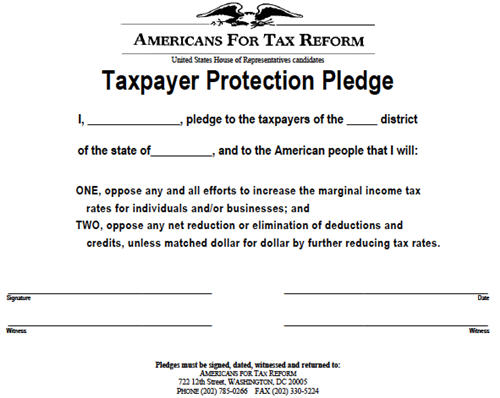 As I was researching the tax pledge, the name Grover Norquist came to my attention.  He is the founder and current president of Americans for Tax Reform.  Naturally, I went to Wikipedia and Google to find out more about this person.  You can read his profile on wikipedia here.  A few things struck me about his profile.  First, he doesn't seem to be in touch with the common man.  His profile on Wikipedia says he grew up wealthy, then went to Harvard for his undergrad and graduate studies.  So his home life and his undergraduate years at Harvard shaped his politcal views because he's been quoted as saying "When I became 21, I decided that nobody learned anything about politics after the age of 21. (quote was taken from the wikipedia listing)"  Secondly,  I'm not sure how he made his money.  I like to here about people that started with nothing or very little, worked hard and prospered.  The only thing I see listed for Mr. Norquist is that he only works part-time at ATR and in 2009 received $200,000 in annual compensation plus additional compensation that he receives from other boards he sits on.  Third, it strikes me a bit odd that he profits from operating an organization that takes donations (giving donors tax breaks), reducing government receipts (by over $3,800,000 in 2009 — this is a tiny sum compared to overall government receipts) therefore further exacerbating the need for debt ceiling relief.  This is ingenious!  So this guy and his Republican cohorts are holding the American people hostage.
Comments