Posted on | July 5, 2011 | No Comments
Last month, I wrote a post on starting a dividend growth portfolio.  I came across another writer who also advocates in favor of investing in growing dividends.  You can find his article here.   He focuses in on two Vanguard funds (Vanguard Dividend Growth fund (VDIGX) and Vanguard Dividend Appreciation ETF (VIG).  Interestingly enough, he mentions the Vanguard Dividend Appreciation ETF (VIG) as the better option.  I agree with him too.
The VIG tracks the Dividend Achievers Select Index — which comprises of companies that have raised dividends for the last ten years and seem poised to continue to do so.   I started to research the fund and found some great companies including: International Business Machines (IBM) and Microsoft (MSFT), ExxonMobil (XOM), Pfizer (PFE), Johnson & Johnson (JNJ), and Target (TGT).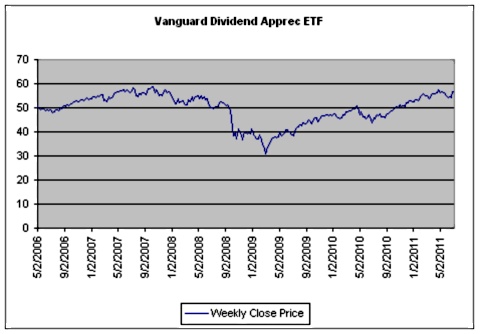 You'll notice that it is almost at the peak.  Although it probably contains stocks that are undervalued right now I think overall it is too expensive.  I'm going to wait for it come down in price before I purchase some shares.
Full Disclosure:  I own stock in Microsoft.
Comments